It is good that you get to know a little about our Computer Repair background and our founder and how we have evolved over the years. We hope with this piece,  it will give you the trust and confidence to engage our services.  We endeavor to exceed our clients' expectations and strive to resolve all your computer problems promptly.
Founder's Background
It all started as a hobby when BytesPC's founder, William Choy repaired a friend's computer.  It was the passion that spurred him to start his own computer repair firm.
Apart from repairing jobs, William has been invited by several  local charity organizations to conduct PC trainings at their premises for maids and foreign workers. These workers were trained on how to build a computer from scratch.  In addition, William is a Certified CISCO Trainer in Computer System Management and has since trained more than 50 foreign workers in Singapore, where each trainee was awarded a certificate by CISCO upon course completion.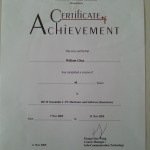 See the left for some of the Computer specialist courses which William has completed over the years. As a trained instructor, he has superior knowledge on computer setup and system. Most of his clients were referred by existing clients and organizations.  His clients include SMEs, corporations, charity organization, churches and of course the regular home users.
His main business in computer repair services includes hardware and software operation on desktop, laptop, DIY PC built to your requirement, networking within offices and home, virus issues and network security.
Company History
BytesPC started from humble beginnings since 2003, from a one man show to presently, a team of 4 engineers who are fully qualified and experienced to carry out any computer repair works. Initially, only dealing with residential households, we have since taken on commercial projects from SMEs and MNCs in Singapore. We focus mainly on PC Computer repair, Laptop notebook repair, MacBook Pro repair and Data recovery services.
Our clientele has grown steadily over these past 10 years and many of our clients have continually sought out BytesPC Services for all their computer Repair needs. BytesPC's duty is to free up our customers' time on any computer technical issues so that they can focus on what they do best in their respective field.
Experience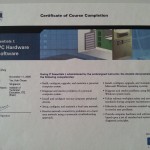 Computer Repair is a field that takes years of experience to build and through many trials and errors along the way. With this, we dare say that we are among the best in the industry and have come across many of the problems that can ever happen to a computer. Diagnosing, solving and then returning a computer back to its high performance state is our passion.
We enjoy seeing our customers satisfied smile when they start using their computer happily again. Of course, we are still learning as technology is constantly evolving. We strive to update ourselves with the latest technologies, repair methodologies, systems and processes. This is to ensure that we always offer a right diagnosis and utilize the most cost effective ways to solve your computer issue.
Why

BytesPC
Repairing Computers is a skill that's common to all IT technicians. But repairing a computer competently utilizing a systematic, consistent, cost effective and productive approach is a skill that's common to a "VERY" few. The component of its "finality" is 40% of skill and 60% of demanding experience. That's when it becomes a profession.
It's very difficult to quantify computer repairing skill, BUT, the moment you engage BytesPC as your Engineer, it becomes our responsibility to ensure that your computer, laptop, PC or MacBook Pro technical issue is solved.